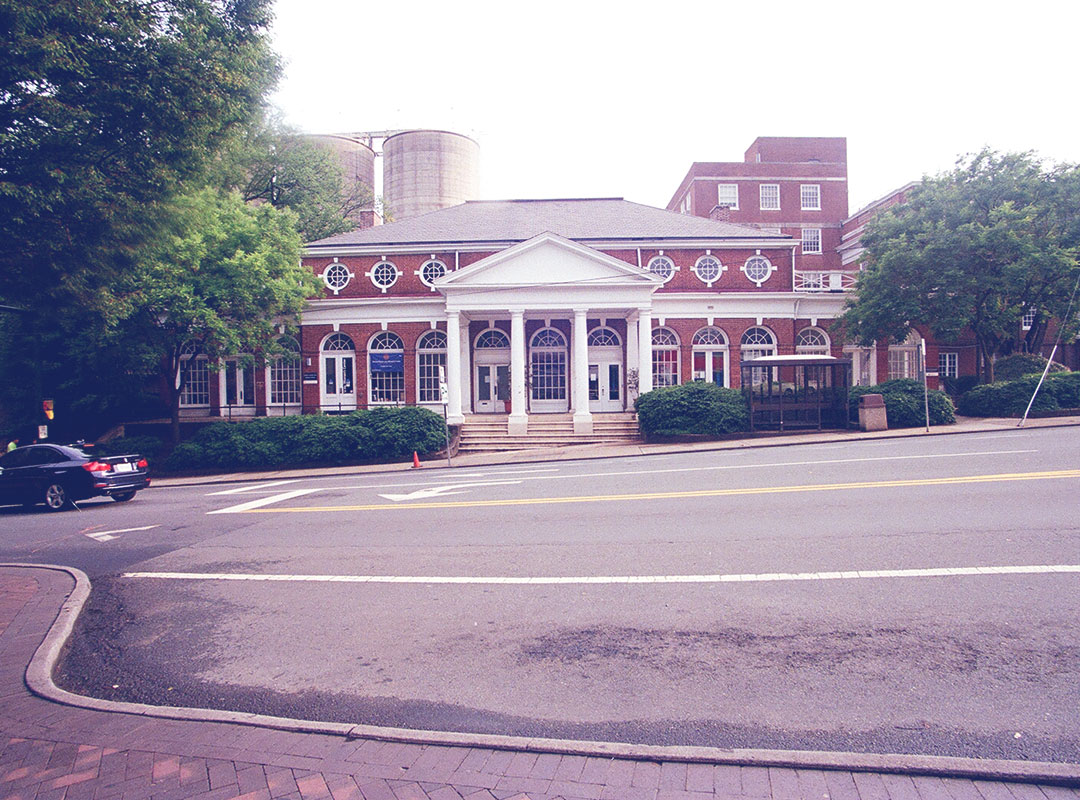 I've spent a lot of time putting things in boxes and taking them back out again in the past two years. I've moved from five states away to Virginia to take the position here at the Women's Center. In my time here, I'm already in my third office. In the process, I've come to physically understand just how many books I own (hint: a lot!).
When I arrived at UVA in the summer of 2016, no one knew that the Women's Center would almost immediately move out for a full renovation. It couldn't possibly have happened this neatly, but in retrospect it feels like it did. When I started, I moved my books and other items over to the Corner Building as I was able to. It seems like I unpacked the last box, broke it down, took it to recycling, and came back to my office, where my phone was ringing. Wynne Stuart was calling from the Provost's Office to share some good news: the HVAC update that the Women's Center was awaiting had grown in scope and we would have to move out for 3 to 6 months.
Historic Opportunity
The renovation that began with a need for substantial mechanical and structural work presented an opportunity to modify the configuration of the space to enable our staff to better serve our students and other clients. While the HVAC, electrical, plumbing, roof, and our beautiful red bricks and mortar received much-needed attention, a host of other small changes were made that will, all told, significantly improve our ability to offer the variety and quality of services we provide to the UVA community.
The first, most visible change is that we were able to open a door in the reception area to the front staircase that leads to the offices and meeting rooms on 2nd floor. This newly opened doorway enables our interns, YWLP Big Sisters and MLP Big Brothers, and a variety of visitors to go directly upstairs, eliminating the old need to wend your way through the counseling area on the main floor to get upstairs via the back staircase. What we thought was a change to the building, though, turned out to be a restoration: when the wall was opened up, the construction crew discovered that there had previously been an arched opening there.
Something as simple as one new doorway makes a world of difference to preserving the quiet and private atmosphere that are so important to the counseling services we provide on the main floor! And we're pleased to offer everyone heading upstairs a simpler route to their destination, too.
Rooms Befitting their Purpose
Being back in our space means that we have the Room to Breathe again! Just walking past it offers a sense of peace, and we're thrilled that we can again offer this space to anyone in the UVA community seeking a moment of reflection. With the remodel, we now also have a more secluded waiting area for our counseling clients in a recessed space that is adjacent to the Room to Breathe and close by our counselors' offices.
The reconfiguration of walls created some new meeting rooms and study spaces that our interns and other students can use. As we find the right furnishings for these spaces, we look forward to integrating their use into our daily operations. And every office door in our building now opens directly into the hallway, an enormous improvement over the old layout in which some offices were only accessible through another room. Without increasing our square footage, these changes have increased the usable space and allowed us to situate each of our many different functions in a space that is well-suited to that part of our work.
Inviting Environment
Five windows were added (quite a feat in a historic building) and the enclosure around the back staircase was opened up to draw natural light through the interior upstairs. The cumulative result of all of these changes is that the Women's Center has a lightness and airiness that conveys a sense of peace and wellbeing as you walk in the door. The building truly is a space that welcomes all and puts our mission into action.
I don't think anyone who has ever done any remodeling or construction is surprised to hear that those 3 to 6 months turned into 12 by the time we moved into our temporary offices and ultimately stretched to 15 by the time we moved back. Such is the reality of renovating a 6,000 square foot space, especially one in a historic building. But the Corner Building's bones are good and the Women's Center staff is settling back into it, eager to welcome the UVA community into our new/old home.