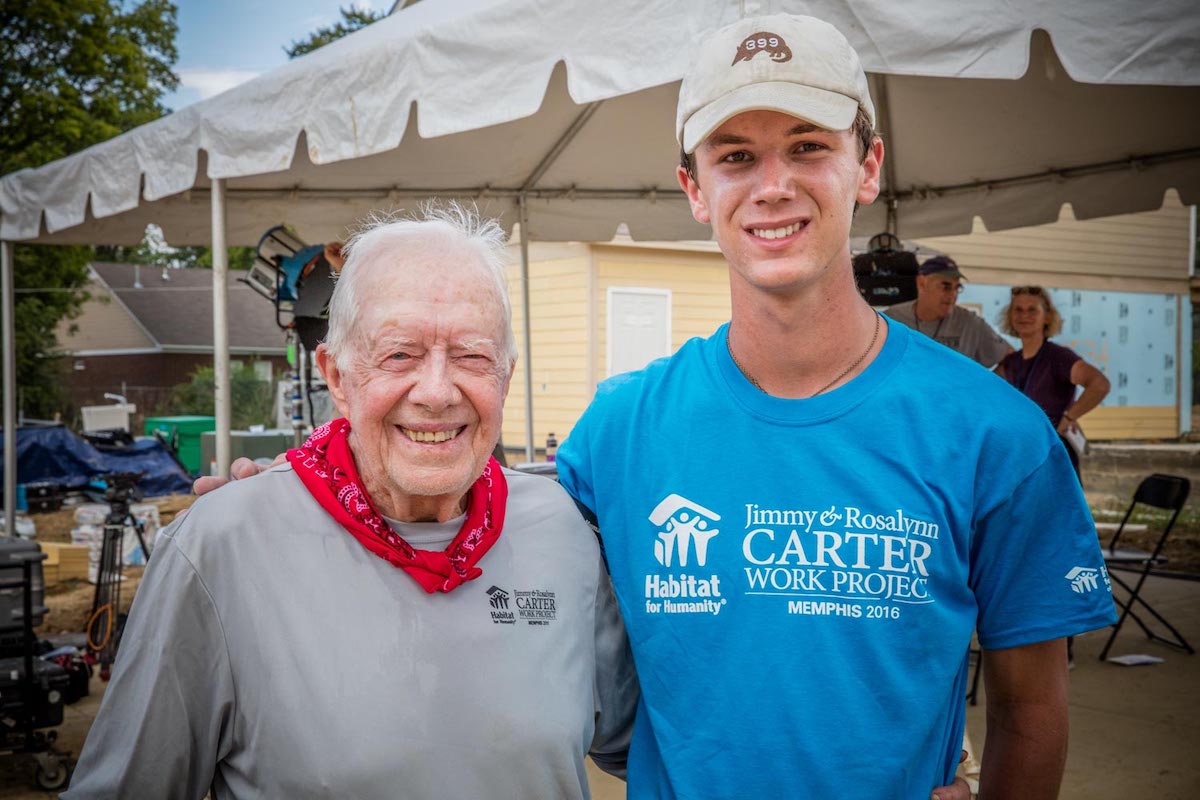 Taylor Thompson (Arch '21) is this year's recipient of our Beth Garrett Memorial Internship Grant. Taylor's involvement with housing policy came through his long-standing work with Habitat for Humanity International as a volunteer and through his training to follow in his mother's footsteps as an architect. Taylor, who is interning this summer in Habitat's Government Relations and Advocacy Office in DC, has served with Habitat since the age of 16 when he raised $85,000 and volunteered to build a Habitat home in his mom's memory. Maureen Thompson passed away in 2014 after an 11-year battle with breast cancer.
Throughout his teens, Taylor's involvement with Habitat and with the discipline of archtecture grew deeper and deeper. His work with Habitat to date has included volunteering on home sites in the Austin, Texas area where he grew up, a Habitat Global Village Build trip to build homes in Thailand, and three Carter Work Projects, special weeklong Habitat for Humanity builds led by former President Jimmy Carter and his wife Rosalynn. Taylor participated in a University of Texas summer program in architecture for high school students before enrolling in the School of Architecture here at UVA where he has brought a new level of energy to the University's student Habitat chapter.
Taylor's dedication to his work with Habitat has given him the opportunity to see firsthand the work of professional leaders at all levels of the organization such as spending time on Capitol Hill with Dan Rosensweig, CEO of Habitat for Humanity of Greater Charlottesville, during Habitat's annual advocacy conference, and meeting Habitat CEO Jonathan Reckford at a Carter Work Project in Memphis, Tennessee. He regards his internship with Habitat this summer as an opportunity to become more well-versed in the relationship that exists between design and public policy, as a way to address affordable housing both domestically and internationally.
In applying for the Garrett grant, Taylor told our selection committee that "serving in this role over the summer will provide me with the opportunity to understand the complexities and interactions of Federal, state, and local governments by attending the upcoming House budget meetings, interacting with different office's Legislative Assistants, and researching recent advocacy successes within the ministry after the launch of Cost of Home, HFHI's national advocacy campaign." Taylor is thankful for this chance to take further steps along the public policy path to which Beth Garrett dedicated her powerful intellect and generous spirit. "This grant is making this all possible, and there are not sufficient words to express my gratitude," he said in accepting the award.
With support from the Law School, we established the Beth Garrett Memorial Internship Grant last year to honor UVA's 2016 Distinguished Alumna, Beth Garrett, who went on from her early work in public policy to accomplish many great things in her 52 years. Beth was a 1988 alumna of the School of Law and was serving as the president of Cornell University at the time that she was selected to be the Distinguished Alumna for 2016. Sadly, Beth passed away before the award could be formally bestowed upon her and the larger UVA community could honor her.
We are proud to extend Beth's legacy at UVA to the next generation so that they, in turn, can gain the public policy experience they need to make a difference. Each year, the grant provides $2,000 to a student who has the opportunity to serve as an unpaid intern in the field of public policy. The inaugural Beth Garrett Memorial Internship Grant was awarded to Shaun Khurana who interned with Equality Virginia in 2018. Shaun graduated from the College with a philosophy major and is currently pursuing a Masters in Public Administration at the John Glenn School of Public Policy at The Ohio State University.