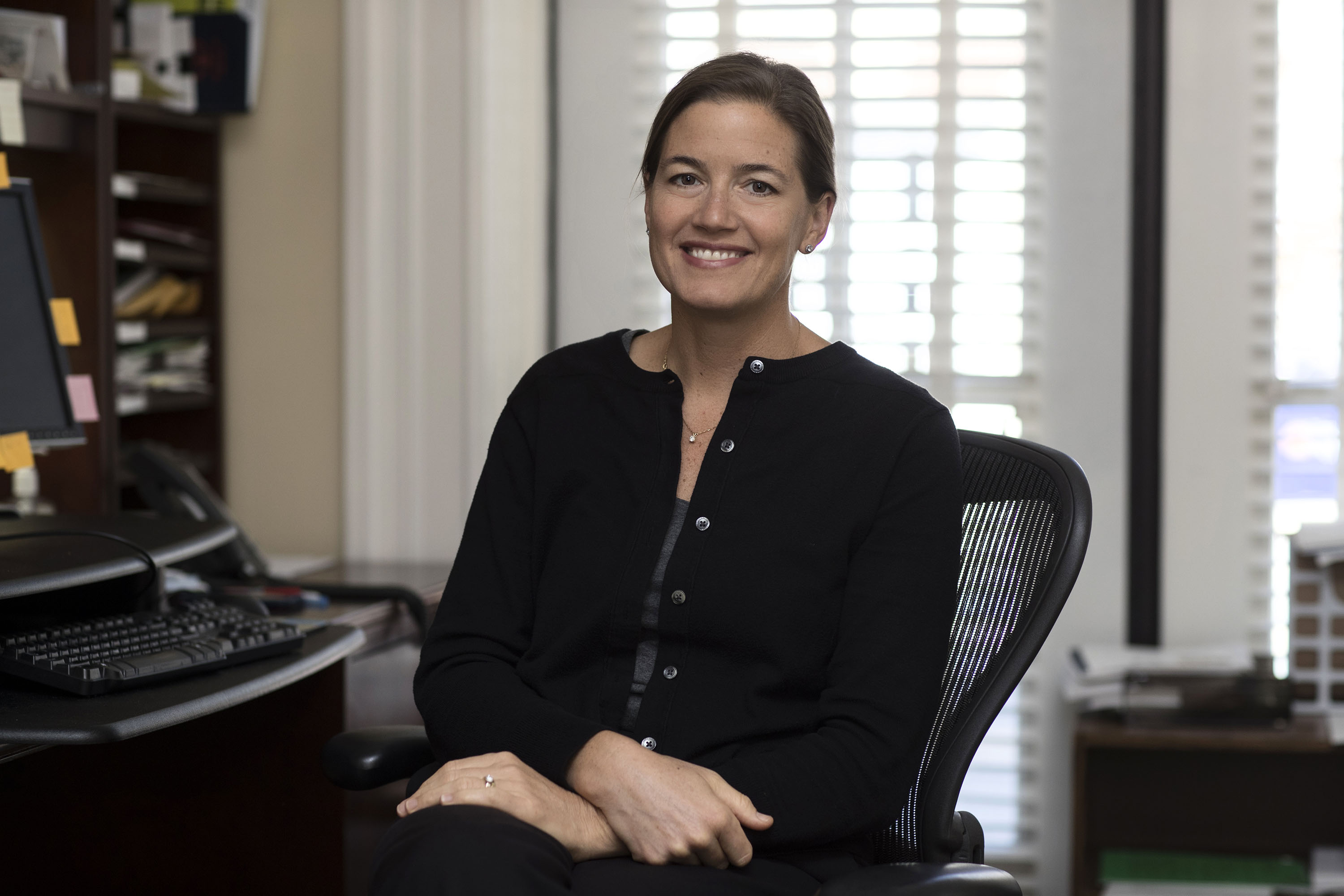 The Women's Center is proud to announce that Carrie Heilman, Associate Professor in the McIntire School of Commerce, has been selected as the 2022 recipient of our Elizabeth Zintl Leadership Award. In nominating Heilman, John A. Griffin Dean Nicole Thorne Jenkins made clear the level of excellence for which Heilman is well known, stating that her "exceptional service to the University of Virginia and the McIntire School of Commerce have far exceeded expectations, well beyond her call of duty to the School, over the nearly two decades since she assumed her first faculty position on Grounds." In recent years, her work representing all UVA faculty and student-athletes to both the NCAA and the Atlantic Coast Conference (ACC) as the University's Faculty Athletics Representative (FAR) has been an especially noteworthy aspect of her service.
Women's Center Director Abby Palko finds the extent of Professor Heilman's service inspiring. She is particularly appreciative of the commitment to the well-being of students that is evident in all of the ways Heilman contributes to the life of the University. Palko points out that, "the guidelines for this award specifically reference excellence that makes a direct and significant impact on the core academic enterprise of the University and an unusually high degree of service to the University, within and beyond the expectations of the woman's position description. Carrie Heilman unmistakably exceeds both of those criteria, and the Women's Center is excited to recognize her."
As the selection committee that reviews nominations for the Zintl award gathered for this year's deliberations, they immediately took note of the close mentoring relationship that Professor Heilman develops and sustains with her students. The "Promotions" course that she has advised since 2013 is justly famous for being an incredible learning experience.
Beyond that, committee members were deeply impressed by the scope of Heilman's service: its depth, its breadth, and the fact that much of what she does, she does individually. She does not merely serve on a committee or two. She has dedicated a substantial amount of time and effort to her service for the McIntire School Commerce, representing the Marketing Area on the Undergraduate Program Committee, coordinating the Strategic Brand Consulting & Communications Track, and serving for twelve years as the School's Assessment Coordinator (during which she navigated 3 cycles of AACSB accreditation for the School).
Heilman's service outside of McIntire is equally impactful. As UVA's FAR, a role that is far-removed from her position's responsibilities, she has needed to master a complex and changing environment. In this moment, as student athletes are learning to navigate new opportunities to earn money from their likeness, her service as UVA's representative on the national stage is invaluable. Student athletes rightfully hold her in high regard in recognition of her advocacy for them. This level of service well beyond her school, contributing to the well-being of students across the University, was particularly meaningful to members of the award selection committee. An article about Heilman published in UVA Today this week provides further insights into the role of FAR, a position filled by just one person from each of the National Collegiate Athletic Association's 1,100 colleges and universities.
Heilman will be honored at a small, private lunch.
The Zintl award, first given in 1998, honors the memory of Elizabeth Zintl, an accomplished writer and journalist who served as chief of staff to the UVA president until her untimely death in 1997 at age 45. It recognizes a female employee who has given an "unusually high degree of service to the University, within and beyond the expectations of the position" and "whose excellence in work makes a direct and significant impact on the core academic enterprise."
Other recent awardees include: Kimberley Bassett, former Associate Dean of African American Affairs (2021); Margaret Shupnik, Gerald D. Aurbach Professor of Endocrinology (2020); Nursing School Dean Emerita Dorrie Fontaine (2019); Deborah McDowell, director of the Carter G. Woodson Institute of African-American and African Studies and Alice Griffin Professor of English (2018); and Rachel Most, associate dean for undergraduate academic programs and archaeology professor (2017).