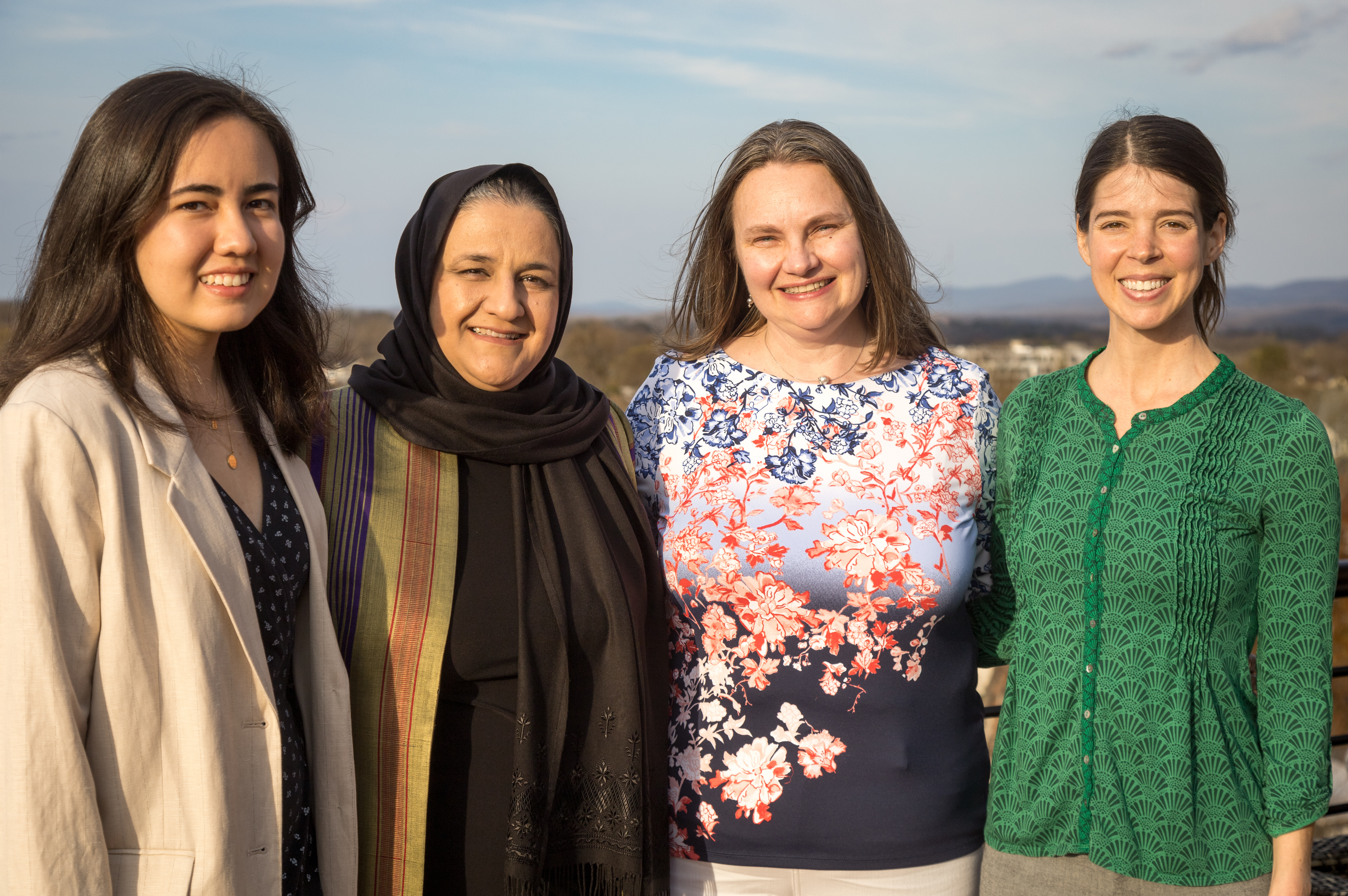 On Thursday, March 23, Rangina Hamidi joined UVA staff, students, and Charlottesville community members to share her experience advocating for Afghan women and girls.
It just so happened to be the beginning of the school year in Afghanistan, and one year since the Taliban banned Afghan girls from attending school after sixth grade, making Hamidi's speech timely.
Over the span of a short hour, Hamidi answered questions from both moderators and students about her many experiences as a UVA alum, from working as Afghanistan's Minister of Education, to founding Kandahar Treasure, an all-women social enterprise for women in Afghanistan.
Hamidi's path was not what she had originally envisioned for herself when she first came to the University (a familiar experience for many UVA undergraduates). Hamidi initially planned to study medicine and become a physician. However, after taking courses in Religious Studies and Women & Gender Studies (WGS), she realized that medicine was not her calling. Instead, she saw new possibilities for her future and the future of women in her home country of Afghanistan.
In her talk, Hamidi drew some connections between her college coursework and her efforts to found Kandahar Treasures. Through WGS, she learned about "women's economic empowerment as a foundational tool to utilize, to liberate women across the globe," which led to her interest in promoting women's financial independence. She established Kandahar Treasures to help women in Afghanistan profit from creating embroidered products, a practice not traditionally seen as profitable.
"And at the time that I was doing this, people were laughing at me saying, she's busying herself with embroidery crafts tradition. That's nothing major about women or women's empowerment," Hamidi said. "There's a trend now where the traditional activities of women globally are actually even looked down upon."
However, in the context of Afghanistan, Hamidi pointed out, where girls are banned from attending school beyond the sixth grade, the opportunity for women to earn an income in the craft industry is nothing to look down upon.
Maddie Sherman ('24) agreed, saying, "One of the points that Rangina made that really stuck with me was an emphasis on self-preservation and doing what you can with the circumstances you are under… We (especially Western, American individuals) cannot judge the women for what they are or aren't doing because we don't so much understand the direness of the situation they are existing in. Sometimes just existing is a protest in itself."
Another prominent theme of Hamidi's talk, especially relevant during Women's History Month, was the challenge she faced as a woman in her role as Minister of Education of Afghanistan.
"Once I stepped in, I was reminded as a woman that it is the most challenging thing to be a woman trying to do good in a man's world, in a man's world like the man's world in Afghanistan. And I was reminded of that daily by minute and by second… Yet I'm proudly sharing this with you today that I gave it my full. I wish we could have accomplished much more than we were able to in the 14 months that I was there. But I feel good knowing that I set a foundation…"
Hamidi described a great leader as one who is willing to make mistakes, use what they learn from those mistakes, and do better moving forward. The audience seemed to see in Hamidi these leadership qualities.
Angel Fabiano ('23), said, "I appreciate Ms. Hamidi's transparency when she explained the many hoops she had to jump through as Minister of Education, and how being a woman in leadership in a male-dominated political sphere results in a lot of push back. It's inspiring to hear Ms. Hamidi's hopes for the future female leaders and the liberation of Afghanistan."
The event was thought-provoking for many students, including Giselle Villatoro ('24), who said, "Her ability to foster trust within the context of her community by adhering to the cultural norms really made me think about how proposing a change requires an initial respect for the current beliefs of your audience."
By the end of the hour, Leah Carroll ('25) left feeling inspired: "It was great to be able to experience Mrs. Hamidi in-person because she was so real and genuine, and it made me realize all the things I too can do with my UVA education."
We are grateful to Ms. Hamidi for joining us to speak on such an important topic!
………………………………………………………………………………………………………
About the Beverly Cobble Rodriguez Lectureship:
In 2014, Beverly Cobble Rodriguez and Joe V. Rodriguez, Jr. generously endowed the Beverly Cobble Rodriguez Lectureship Fund Supporting Women's Education and Global Leadership to allow us to host an annual lecture on women's education and global leadership with a special emphasis on healthcare, multi-national business, and the liberal arts.