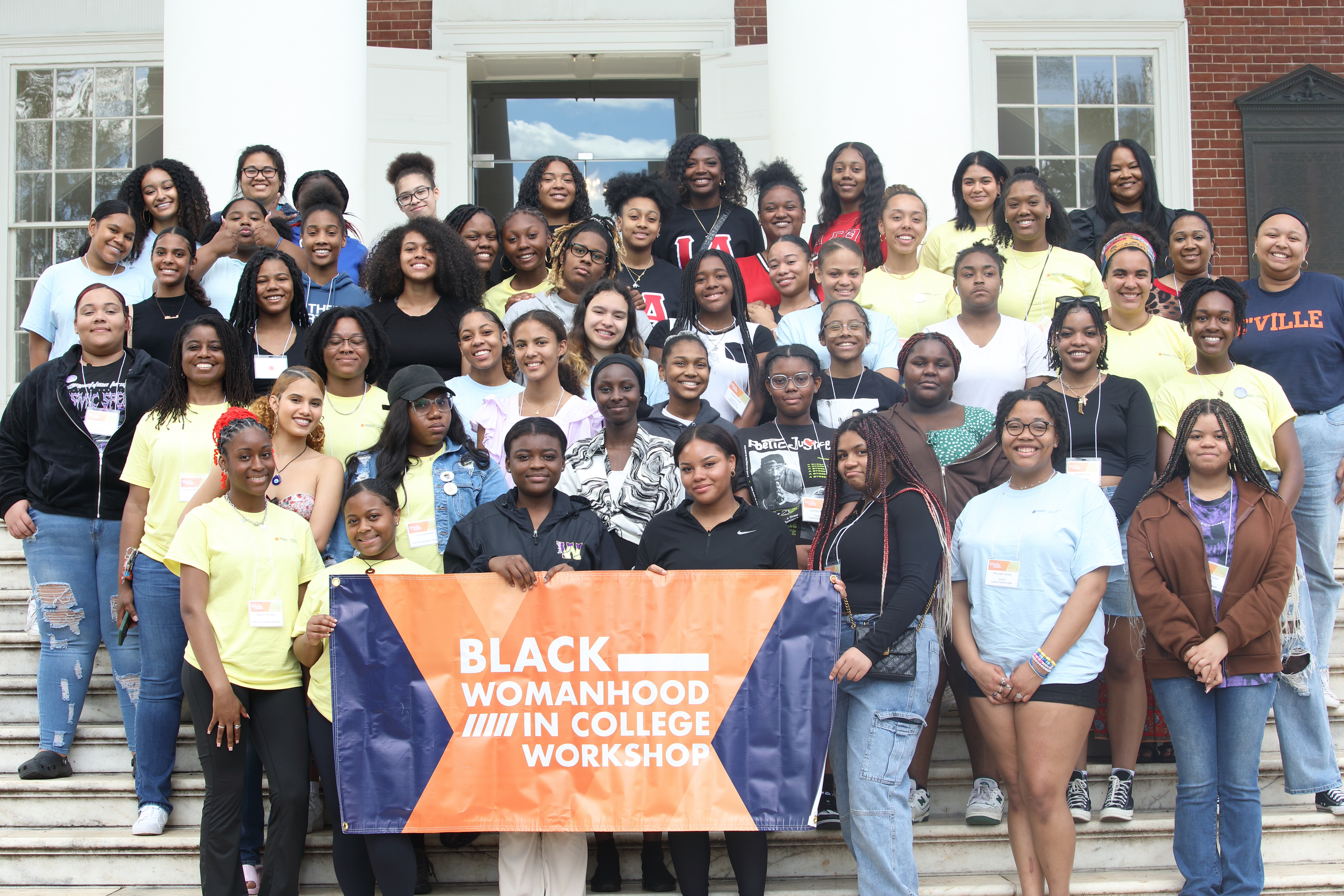 Navigating the college application and decision processes can be difficult for many high school students, but it can be especially challenging for students with intersecting identities. To create a space for these students to receive information about college that is unavailable on normal tours and show them the special spaces and opportunities available to them, the University of Virginia's Maxine Platzer Lynn Women's Center hosted its 4th annual "Black Womanhood in College Workshop" (BWCW).
On Saturday, April 15th, for the first time since the COVID-19 pandemic, the Women's Center welcomed 35 young women to Grounds from nine local high schools to hear firsthand from current Black female students, faculty, and experts on college accessibility. Each year, the workshop exposes participants to unique aspects of the Black woman's experience in higher education and shows them ways to succeed at a college or university.
"Many young people at Waynesboro High School are first-generation college students, and the Black Womanhood in College Workshop (BWCW) is a wonderful opportunity for young Black girls to see themselves represented in higher education," said Christine Turner, a school counselor at Waynesboro High School. "Seeing women who look like them who have similar aspirations empowers them to feel like they can go to college and pursue their dreams too!"
Students had the opportunity to hear from several guest speakers. Ti Ames, a director, actor, and educator native to Charlottesville, gave the keynote address – TELLING YOUR STORY: Crafting A Personal Narrative for College and Beyond. In the Rotunda, Program Director Kiya Jones from the Ron Brown Scholars/Guided Pathways spoke with students about aid specifically for Black women and admission essays. Licensed therapist and Licensed Master's Social Worker (LMSW), Elease Cook, discussed mental health and healthy relationships for Black women in college. Students were also able to participate in a round table and enter breakout sessions with Black women who attended different colleges across the country.
The workshop was organized by Jaronda Miller-Bryant, PhD, our Assistant Director for Engaged Scholarship, and was made possible by dozens of volunteers from the Women's Center, UVA, the Charlottesville community, and beyond.
"I am always amazed at how much community support we receive for this program! From the many school counselors who help recruit these young women, to the response from parents and teachers and from members of the Sister Circle who saw the announcement and signed their children up," said Jaronda. "I enjoy just providing a program where Black girls can come to something that is tailored just for them!"
Thank you to all the volunteers and school counselors that made this day possible!
TELLING YOUR STORY: Crafting A Personal Narrative for College and Beyond!

Ti Ames – Director, Actor, Educator

Ron Brown Scholars: Aid & Admission Essays

Kiya Jones, Guided Pathways, Program Coordinator

Mental Health/Healthy Relationships for Black Women in College

Elease Cook, LMSW, Licensed Therapist

UVA Student Mentors

Hermela Berhanu
Makana Brooks
Ka'Lisa Brown
Cheyenne Butler
Ariyanna Cozart
Kennedy Daal
Lauren Montgomery
Marlee Morgan
Morgan Simmons

College Exposure Session Leaders

Finding Resources and Support

Richelle Claiborne (Rutgers University)

Finding Yourself at an HBCU

Victoria Carter-Johnson (Howard University)
Synphane Gibbs-Shelton (North Carolina A&T)

Building Community at a PWI

Dona Edwards (Stanford University)
Patrice Wright (Purdue University)

First-Gen Experience

Britney Mason (Mary Baldwin University)
Mey Beyah (Virginia Commonwealth University)

Going to a single-sex institution

Alexandria Smith (Spelman)
Brittany Thornton (Bennett)

Facing Adversity, taking time off, resiliency

Ti Ames (Oberlin College)

Academics, finding yourself

Judy Jones-Pointer (Fisk University)

University of Virginia's Kappa Rho Chapter and James Madison University's Iota Alpha Chapter of Delta Sigma Theta Sorority Incorporated
Members of the Women's Center Engaged Scholarship team: Sadia Ahmadi, Nia Baker, Anjeli Shankar, Ellen Graves.
School Counselors

Shamika Terrell and Alexis Mason (Charlottesville High School)
Christine Marie Turner (Waynesboro High School)
Munier Nazeer (Uplift @ UVA)
Teresa Haase (Albemarle High School)
William Trent and Irvin Johnson (Monticello High School)
Sista Circle