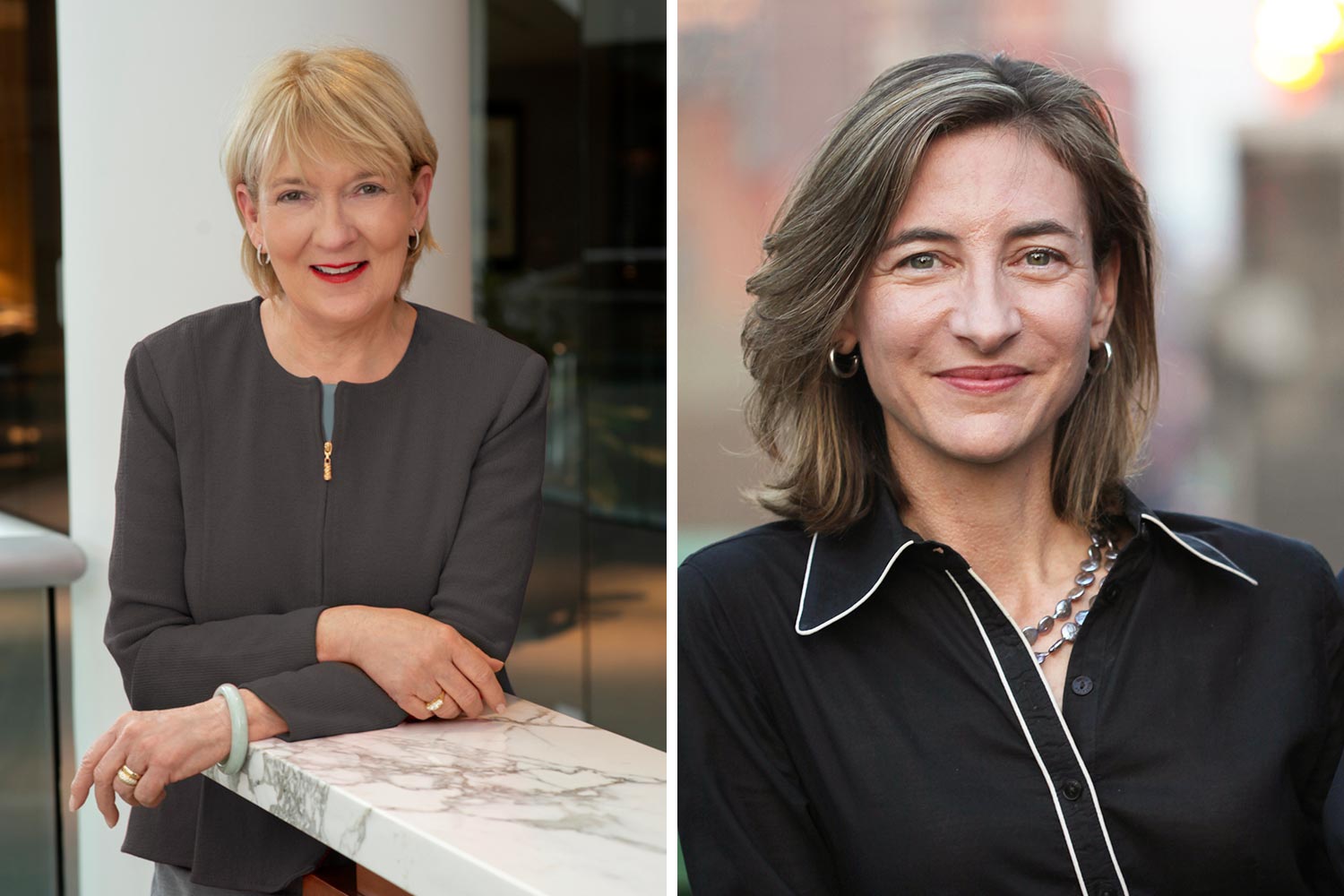 Join us at 5 pm on September 23 for an intimate conversation with our 2020 Distinguished Alumnae! 
Jieru Shi (Com/Col 2020) will moderate this virtual gathering where both alumnae will share the memorable moments that have shaped their prominent careers in fields with few women in high-profile leadership roles. From early influences to choices made along the way, we'll find out what informs their current work with communities near and far navigating the pressing challenges of our time. View the 2020 Distinguished Alumnae Awards presentation and celebrate the UVA pride we all share. Register now. 
This piece has been reprinted from UVA Today. You can find the original article here.
Nancy Howell Agee and Marion Weiss each experienced an early and strong affinity for their respective fields. From opposite coasts, each chose the University of Virginia as the place they would build the foundation for rewarding careers, reaching levels of leadership where few women are found even now, 45 years after they arrived on Grounds.
As CEO of Roanoke-based Carilion Clinic, Agee, who earned her B.S.N. from the School of Nursing in 1979, is among the 13% of U.S. hospital CEOs who are women.
As co-founder and partner at WEISS/MANFREDI Architecture/Landscape/Urbanism, Weiss, who graduated from the School of Architecture, also in 1979, crafts vital public spaces that embrace infrastructure as well as nature in their designs, earning her equally rare prominence in her field.
The Maxine Platzer Lynn Women's Center announced this week that it will honor Agee and Weiss as the 2020 winners of the University's Distinguished Alumnae Award, which recognizes alumnae who have used their talents as a force for positive change. The formal ceremony will be held later this year.
This year marks two significant anniversaries for women at UVA: the 100th anniversary of the Board of Visitors' 1920 resolution to allow some women to seek degrees in the graduate and professional schools, and 50 years since the transition to full coeducation across Grounds.
As the Women's Center and the Alumni Association work together to bring to light the full history of women on Grounds in this milestone year, the center found it fitting to break with its own tradition and honor not one, but two distinguished alumnae, said Abby Palko, director of the Women's Center.
In reviewing the nominations made by each school's dean, Palko said the award selection committee was particularly struck by the level of distinction Agee and Weiss have achieved and their significant impact on the communities where they work.
Weiss, the first recipient from the School of Architecture, has made "architectural contributions [that] have not only been acknowledged for their aesthetic and experiential distinction, but for their enormous positive societal and civic impact," Dean Ila Berman, Edward E. Elson Professor of Architecture, said.
Weiss and co-founder Michael Manfredi earlier were named 2020 recipients of the Thomas Jefferson Medal in Architecture. Weiss is a fellow of the American Institute of Architects and a National Academy of Design inductee. WEISS/MANFREDI's awards include the American Academy of the Arts and Letters Honor Award, the Tau Sigma Delta Gold Medal and state and national American Institute of Architects awards.
The firm's work is regularly included in major architecture publications, with projects like the Seattle Art Museum's Olympic Sculpture Park earning inclusion in esteemed exhibitions, and numerous awards for urban and environmental design.
Weiss' designs for such prominent public spaces and her presence as a female leader in the field of architecture are both important drivers of positive change, said Robin Dripps, UVA's T. David Fitz-Gibbon Professor of Architecture. Dripps noted that Weiss' work exemplifies the value that the School of Architecture places on "the public realm as a place for a diverse citizenry to develop a shared identity and purpose," and calls her "a major role model for a generation of women now finding their voices in a profession not always hospitable to women."
Agee was instrumental in co-leading Carilion's transformation from a collection of hospitals to a patient-centered, physician-led health care system with more than 1,000 physicians, seven hospitals, and related services such as home health, imaging, pharmacies, and urgent care serving more than 1 million people in Virginia and West Virginia. Carilion is Virginia's largest private employer west of Richmond and has a $1 billion annual payroll.
Pam Cipriano, Sadie Heath Cabaniss Professor of Nursing and dean of the School of Nursing, said Agee's election as chair of the Board of Directors of the American Hospital Association (the member association for the nation's 5,000 hospitals) is evidence that, in addition to being one of very few nurses to rise to hospital CEO, her service within the ranks of hospital leaders has "earned the respect, trust and admiration of a community that continues to be dominated by men."
Discovering the Joy in Their Fields at UVA
In her teens, Agee affirmed her childhood inclination toward nursing by volunteering as a candy striper in Roanoke and became the first person in her family to graduate from high school, as well as college. The University's tradition of excellence in educating nurses met with Agee's interest in Virginia history and the beauty of the place to create a sense of connection that she did not find at other schools, she said.
Growing up in California, Weiss was moved by the harmony of hillside, landscape and architecture in Ernest Kump's lauded design for Foothill College in Los Altos Hills near her home. As she considered her college options, Kump himself encouraged Weiss to choose the University of Virginia over the West Coast schools on her list, as UVA's School of Architecture was on the forefront of considering architecture and landscape architecture to be interdependent.
Weiss and Agee both recall foundational lessons learned at UVA that informed the leadership they have gone on to provide in their respective fields. Agee has vivid memories of confronting ethical dilemmas as a nursing student through reading Victor Fuchs' "Who Shall Live?" This text went on to become a classic over the years, but was at the time a new work that revealed fundamental issues with health care costs and access by applying economic theory in novel ways.
Agee said her professors emphasized intellectual curiosity, encouraging students to question the status quo and keep pushing to know more. Curiosity led Agee to obtain a master's degree in nursing from Emory University, to gain a range of experiences from research to administration, and to pursue post-graduate studies at Northwestern University's Kellogg School of Management.
When she became CEO in 2011 and led Carilion through the process of defining its core values, curiosity emerged as an important characteristic that the workforce and its leader have in common. Compassion, which she also learned about at UVA, is another Carilion value, she said. Agee takes pride in the School of Nursing's leadership on this front, saying that compassion "differentiates nursing as a profession."
She said she is proud of all Carilion does to "support people in their compassionate work" by providing the means for care providers to keep making the deeply rewarding human connections that initially drew them to the field.
Nancy Agee said her UVA Nursing professors emphasized intellectual curiosity, as well as compassion. (Photo courtesy of Carilion Clinic)
Weiss recalls her School of Architecture education as an extraordinary one that combined a focus on the rigor of form with extensive study of history and theory.
A moment not long before graduation stands out as a seminal one, she said.
The four years Weiss spent working with great care in the architecture studio had seemed unconnected to the sense of herself as an artist that Weiss had found through figure drawing. She had so enjoyed the fluid process of thinking and making at the same time in the late Carlo Pelliccia's figure-drawing course that she took the course over and over – well past the point where there were any more credits to be earned.
As a studio critic in Weiss' last year at UVA, Pelliccia encouraged her to try something new: to begin and end a design wherever it mattered most, as she did in figure drawing. His questioning of the painstaking and linear fashion in which she worked a design through from start to finish brought together the seemingly unrelated things she had been doing in architecture studio and in figure drawing. It finally made sense.
Honing that intuition to identify and fine-tune key elements of a design has served Weiss well. She went on in that spirit to distinguish herself while earning her master's degree at Yale University and to eventually approach design competitions for complex, high-profile public projects.
As prestigious awards, firm achievements and career impact have accrued, Weiss continues to see each project with the fresh eyes that allow her to find the opportunity for "something unprecedented, something that could exist nowhere else," she said.
Opening Avenues for Others to Learn
Today, Agee is consistently recognized as an influential leader by Modern Healthcare and awarded health care's high honors such as the National Center for Healthcare Leadership's Gail L. Warden Leadership Excellence Award. She leads Carilion in earning similar accolades from Becker's Hospital Review, Truven and U.S. News & World Report.
But her greatest impact may lie in the future well-being of the Roanoke region's people and its economy. Long before becoming CEO, she championed transformative public-private partnerships aimed at addressing several of the area's interrelated challenges. The Virginia Tech Carilion School of Medicine and Fralin Biomedical Research Institute at Virginia Tech-Carilion are now engaging community members, educating practitioners, improving care and attracting research funding. According to studies conducted by the Center for Economic and Policy Studies at UVA's Weldon Cooper Center for Public Service, Carilion Clinic contributed more than $3.2 billion to the state's economy in 2018 and the effect of the Virginia Tech Carilion health sciences campus on the state's economy is projected to grow from $214 million to $465.2 million annually over the decade from 2017 to 2026.
Weiss has served on the faculty of the University of Pennsylvania's Penn School of Design since 1991 and has taught design studios at Harvard, Yale and Cornell universities over the course of her career. In addition to guiding students, she teaches the broader public through many of her designs.
This part of her work dates back to the founding of WEISS/MANFREDI, also in 1991, and the design that she and Michael Manfredi proposed for the Women's Memorial at Arlington National Cemetery. Now hailed for the way it opened space within an existing historic structure for what Weiss calls "stories in need of telling," the memorial honors nearly 3 million women who have served or are serving in or with the U.S. armed forces, starting with the American Revolution.
For the addition of the Women in Military Service for America Memorial to Arlington National Cemetery in 1997, WEISS/MANFREDI reenvisioned an historic hemicycle retaining wall as the entrance to a new museum and education center. (Photo by Jeff Goldberg)
Thanks to the visionary leadership of retired U.S. Air Force Brigadier Gen. Wilma L. Vaught, president of the memorial's foundation from 1987 to 2016, the fledgling WEISS/MANFREDI firm had the opportunity to participate fully in the multi-stakeholder project and to see its winning design realized.
That process prepared them for the firm's many public projects since then, to the immeasurable benefit of countless visitors to Arlington and the other communities served by the firm's designs for parks and educational spaces all over the country.
Continuing to Lead
Weiss' leadership in the design of urban parks and educational spaces turns now to a new master planning project for Los Angeles' La Brea Tar Pits, a long-term, multidisciplinary effort that will include designers, horticulturalists, paleobotanists, artists, naturalists and others. Cities' increasing urgency to address rising sea levels and other pressures intensified by climate change will likely bring her more projects like Hunter's Point South Waterfront Park, along the East River in Long Island City.
As 400,000 previously uninsured Virginians are now covered by Medicaid, Agee's advocacy is making a difference for those who lacked access to care in the past. She sees the need and the possibility for a system that meets Americans' everyday health needs as well as the U.S. system has traditionally delivered acute care. Agee said caring for an aging population and addressing chronic illnesses are challenges to be confronted by addressing health disparities that are long-standing, but currently made more glaring by the COVID-19 pandemic.
As announced by the Alumni Association in April, the University community is encouraged to discover more stories of UVA alumnae through Retold, a recently launched effort to tell the full, nuanced story of women's experiences at UVA and beyond, honoring the diversity of the alumnae experience over the past 100 years. As public health and University operations allow, the transformational impact of UVA alumnae will be celebrated with a variety of events, open to all.